RUI REININHO & A COMPANHIA DAS INDIAS
um concerto fantástico no Centro Cultural Vila Flor, em Guimarães
-
-
-
-


-
Quem apenas esperava uma produção cénica elaborada, oriental, desiludiu-se, quando após o hipnótico El Al, as cortinas se abriram e deixaram ver um palco, só com os quatro músicos da Companhia que, acompanham o Vice Rei (ninho) nesta aventura pelas Índias.

Depois do instrumental, Rui Reininho entrou em cena com o mítico Riders On The Storm.. tempestade de emoções, soltas pela grande interpretação do Pop Star, do imortal hino de Jim Morisson.

Triste S do cd da Companhia antecedeu um brutal Anarchy in the U.K, possível tributo à corrente anarquista, ou à banda que imortalizou o tema, os Sex Pistols.

A Companhia das Indias correu o disco, tocando Morremos a Rir, Estranho Caso do A. Preguiçoso, Faz parte do Meu Show, Yoko Mono, Fakir, Laika Virgin – uma estreia ao vivo da composição de Alexandre Soares - Dr. Optimista, o inevitável Bem Bom e Morgana Penelope, outra estreia em espectáculos ao vivo.
Além dos clássicos dos Doors e dos Sex Pistols, ouvimos um rítmico Sympathy For The Devil, com Reininho a improvisar com a própria letra da música da dupla Mick Jagger / Keith Richards; viajamos pelo espaço cósmico, comandados por Major Tom, o personagem central da Odisseia Espacial – Space Oddity - do camaleónico Bowie, na voz sideral de Mister Reininho; Heartbreak Hotel para recordar o Rei Elvis e, acabámos ao som de Spanish Bombs, dos já extintos The Clash.
Os que vieram á procura de novas sonoridades, de diferentes abordagens à forma de apresentar música, tiveram uma noite inesquecível.

Antes do concerto, a IMAGEM DO SOM esteve à conversa com Rui Reininho, que confessou ser um individuo tripolar, a quem crescem as unhas e o cabelo a maior velocidade quando está em palco, que se recusa a cantar em playback, que o futuro está na construção civil, que está mais excêntrico e desalinhado, e que a Companhia das Índias é um projecto de futuro.
RUI REININHO em ENTREVISTA à IMAGEMDOSOM aqui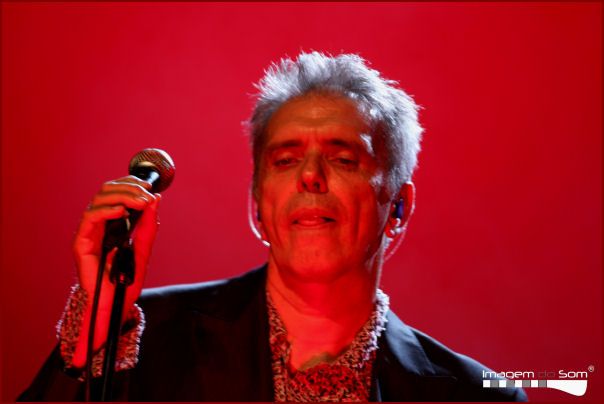 -
-
-
~-