THE AUSTRALIAN PINK FLOYD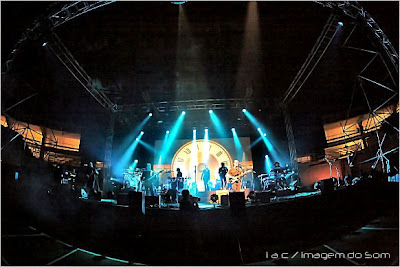 P

ela terceira vez em Portugal, mas em estreia absoluta na cidade do Porto, os The Australin Pink Floyd Show apresentaram-se ao público nortenho na passada noite de dia 19 de Fevereiro. Um Pavilhão Rosa Mota esgotado recebeu e entregou-se de braços abertos, durante 2 horas, aqueles que são considerados a melhor banda de covers da actualidade.
O Palácio de Cristal ia recebendo o, já de esperar, público de meia-idade, mas também muitos jovens, maioritariamente filhos a acompanhar os pais, que iam ocupando os lugares sentados. Os Pink Floyd, lendária banda de Cambrigde, marcaram gerações, e embora não se tratando de um concerto deles próprios, ninguém quis perder a oportunidade de recordar um concerto do colectivo britânico, ainda para mais, quando se trata de uma reprodução fiel.
Passavam poucos minutos das 22 horas quando as luzes se apagaram e um vídeo introdutório começou a ser reproduzido na tela gigante. Mais a frente, nesse vídeo, podíamos observar que álbuns dos Pink Floyd iriam ser recordados, visto um canguru cor-de-rosa, no conforto do seu quarto, escolher o vinil da prateleira e o colocar no gira-discos. A primeira escolha foi o "Dark Side of The Moon" e o tema "Speak To Me/Breath" deu entrada dos australianos em palco e o consequente início do concerto. Desde cedo ficou provada a qualidade da banda que o próprio David Gilmour quis ver e intitulou de brilhante, e após alguns temas ainda do "Dark Side of The Moon", sempre acompanhados de reproduções multimédia, os primeiros grandes aplausos da noite foram dirigidos a Jacquie Williams pela excelente prestação vocal em "The Great Gig in the Sky".
"Shine On Your Crazy Diamond Pt. I-V" foi o primeiro tema a levar o Palácio de Cristal ao rubro bem como "Learning to Fly", "Take it Back" e "High Hopes", algo que só foi superado com incrível dupla "The Happiest Day Of Our Lives" / "Another Brick in The Wall Pt. II" que fez levantar a plateia. O público recebeu ainda de braços no ar o clássico "Wish You Were Here" ajudando Steve Mac a cantar o mesmo. A componente visual envolvente em cada tema, onde nem os lasers faltaram a chamada, fazia de cada tema especial e único e com uma plateia já em total êxtase, os australianos tiraram outro coelho da cartola e "Comfortably Numb", que trouxe Ian Cattel a palco vestido de médico, voltou a arrancar grandes aplausos. "Run Like Hell" integrou o encore e finalizou um magnífico concerto onde a má acústica do recinto não se fez sentir.
Sob uma calorosa tempestade de aplausos, a banda agradeceu a lotação esgotada e a e a entrega total antes de abandonar o palco.
Em suma foi um excelente concerto de uma banda que não se limita a fazer covers, mas sim a tentar reproduzir fielmente um concerto dos lendários Pink Floyd.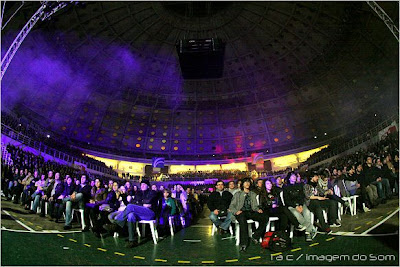 Setlist:
5. The Great Gig In The Sky
6. Shine On Your Crazy Diamond Pt. I-V
7. Welcome To The Machine
8. Pigs (Three Different Ones)
14. The Happiest Day Of Our Lives
15. Another Brick In The Wall Pt. II

Encore: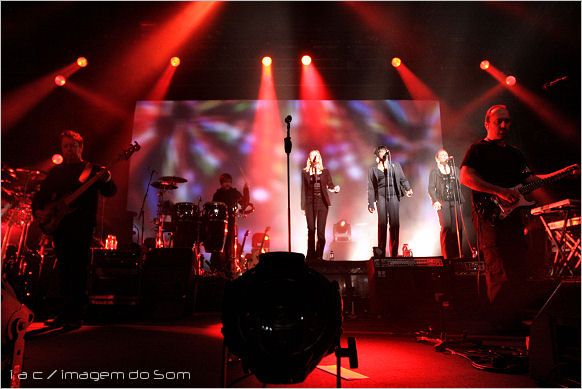 TEXTO : NUNO LOBÃO
FOTOGRAFIAS : IAC
AGRADECIMENTOS À PRODUÇÃO
MÚSICA NO CORAÇÃO
.